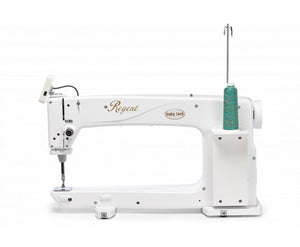 Quilt your way, every day! The speedy, versatile Baby Lock Regent longarm quilting machine makes it easy to quilt. Regent also includes a height-adjustable table with the new Stitch Harmony™ Stitch Regulation built right in! Use Stitch Harmony for consistently-sized stitches or stitch in the manual mode. It's the ideal longarm quilting machine for any sewing room.
The Baby Lock Regent longarm quilting machine features include:
Stitch Harmony Stitch Regulation
Large 18" Workspace
2,200 Stitches Per Minute
"M" Class Bobbin
LCD Touch screen
PLUS Receive 60 Day Love of Knowledge Membership
A Love of Knowledge Membership gives you access to more than 900 classes taught by 35 Baby Lock experts that cover more than 200 products. Classes cover everything from machine set up to specialty features and accessories to project tutorials that help you learn new techniques. More classes are added regularly!
Click here for additional information on the Baby Lock Regent Longarm Quilting Machine.