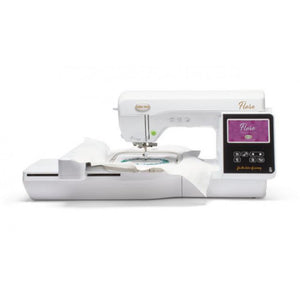 Add your own unique touch to every project with the Baby Lock Flare embroidery machine. Packed with user-friendly features and technology, you'll easily access and edit designs, embroidery fonts and more all in one place.
The Baby Lock Flare embroidery machine features include:
6-1/4" x 10-1/4" Embroidery Field
293 Built-In Embroidery Designs
Wi-Fi Enabled for Design Database Transfer 
14 Built-In Embroidery Fonts
Advanced Needle Threader
PLUS Receive 60 Day Love of Knowledge Membership
A Love of Knowledge Membership gives you access to more than 900 classes taught by 35 Baby Lock experts that cover more than 200 products. Classes cover everything from machine set up to specialty features and accessories to project tutorials that help you learn new techniques. More classes are added regularly!
Click here for additional information of the Baby Lock Flare embroidery machine.