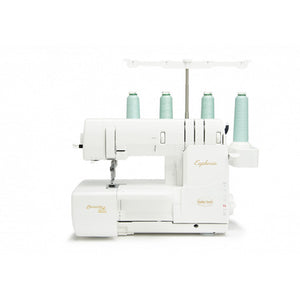 The Baby Lock Euphoria cover stitch machine is the perfect complement to your Baby Lock four thread serger or sewing machine. It creates professional finishes for all your garments, is perfect for active knitwear and even home décor projects. Choose from a triple, wide or narrow cover stitch or chain stitch and easily finish your projects made from even the trickiest fabrics. The Euphoria includes ExtraordinAir® Threading, which threads the chain looper with just the touch of a button. With Automatic Thread Delivery™ you can thread the needles in any order and be ready to stitch with no tension adjustments. Using a cover stitch machine has never been this easy!
The Baby Lock Euphoria Cover Stitch Serger machine features include:
ExtraordinAir Threading
Built-In Needle Threader
5" to the Right of the Needle
No Tension Adjustments
1,500 Stitches Per Minute
PLUS Receive 60 Day Love of Knowledge Membership
A Love of Knowledge Membership gives you access to more than 900 classes taught by 35 Baby Lock experts that cover more than 200 products. Classes cover everything from machine set up to specialty features and accessories to project tutorials that help you learn new techniques. More classes are added regularly!
Click here for additional information on the Baby Lock Euphoria Cover Stitch.